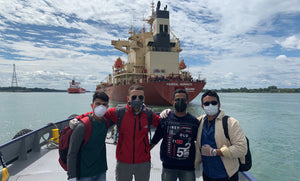 Personnel Shuttles
Our company is part of the maritime Montreal scene for decades and it all started with the transport shuttles. Montreal Boatmen also known as the Chaloupiers  offers to ship owners and agents the opportunity make crew changes only few kilometre away from the Trudeau Intl airport while waiting for pilotage. We also provide shuttle services for the maintenance and mechanical technicians. Our strategic positioning in the port of Montreal and the port of Sorel allows us fast connection to the anchorage station of Lanoraie, Montreal-Est, PAT, Sorel and Vickers.
All Boatmen tugs and pilot boat are certified and inspected on a regular basis by Transport Canada and comply with all the industry regulations.
Shuttle to the Lanoraie anchorage is offer via our Pointe-aux-Trembles location.
---