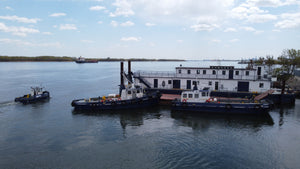 Values & Vision
With over 80 years of history in the Montreal maritime community. Montreal Boatmen is the result of hard work, innovation, and passion. Our employees are reputed for the excellence of their work and their devotion to actively respond to customer's needs. Recently acquired be the Urgence Portuaire Group of companies, the combination of the two entity services and their strategic positioning between the port of Quebec and the port of Montreal will tap into any opportunity that our customers will offer.
Built by our desires to meet the expectations of our customers, we can today proudly affirm that the Boatmen stands out in its field of activity. Focused on our mission, become the reference in the marine services provider in Eastern Canada. To achieve our objectives, we respect three strategic pillars which are for us the guarantees of the success and growth:
- Respect the established timings and ensure customer satisfaction throughout the   contract.
- Stand out by our state-of-the-art equipment and always adapted to the recent technologies.
- Surround ourselves with the most competent team.
To all our customers, we are proud to say that we put them at the centre of our decisions. After all, it is for them that we continuously take on the challenges to always do better.
---